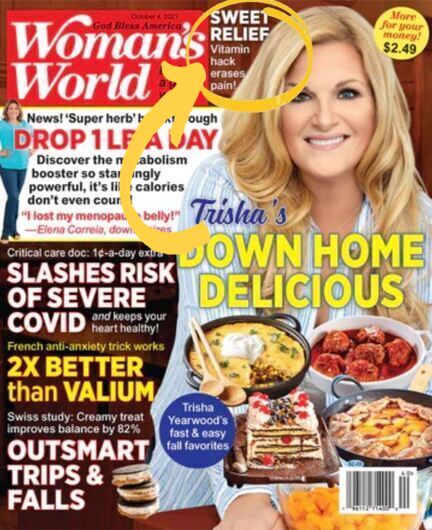 The editors of Woman's World Magazine knew an inspirational story healing story when they read it, and they quickly shared Barbara Farfan's story of self-directed Sciatica healing with their readers.
How did a 60-something woman completely stop the excruciating pain of a Sciatica attack in the middle of a global pandemic lockdown when she was stuck in a town where she knew no one, barely spoke the native language, and at a time when all traditional medical resources were dedicated to COVID?
Out of desperation and necessity, Barbara cobbled together a Sciatica natural healing protocol that first relieved the debilitating pain, and then eliminated all Sciatica symptoms completely. Three years later, Barbara is completely Sciatica symptom-free.
The Surprise Plot Twist
The surprise plot twist in this story of Sciatica healing was what captured the attention of Wioman's World editors. It's a go-to strategy for many common ailments, but not commonly associated with Sciatica relief. Click for Barbara's Sciatica healing secret and how it can be used by anyone >>